JHDPCB – Best customized PCB service
To be China's TOP5 PCB manufacturer
JHDCPCB has world-class equipment support, as well as a professional R & D and production team. Our expertise and cost competitiveness ensure that you can get excellent quality and the most cost-effective PCB and solutions from us.
From drawing to finished PCB, JHDPCB is your expert consultant.
Get cost-effective and high-quality PCBs
We have been deeply engaged in PCB production for more than 12 years and provide one-stop services for PCB fabrication and PCB assembly. You can rely on us to get the most cost-effective PCB by our expertise and large-scale production.

You can rely on JHD to have state-of-the-art fully automated production lines to ensure product quality and consistency. Our factory is ISO 9001, UL or IPC and ROHS&Reach compliant.

We operate our own factory so we can control all steps in the production process.
There are never any hidden costs in our offer. When you need it, you can give the best design suggestions according to your board application scenarios and impedance control.

The 24-hour production line guarantees on-time delivery of orders. With the continuous improvement of JHD's supply chain and production system, PCB manufacturing and assembly cycles are shortening. We support standard international shipping methods such as DHL, UPS, TNT and FedEx.

We always keep an eye on international material prices. Real-time tracking of international market trends allows us to respond faster to quotes for your board design requirements.

Directly to our assembly shop after PCB fabrication is completed, compliant with IPC 6012 and IPC-A-610 Class 2/3, Stencil. Support different packaging requirements such as SMT, BGA and through-hole assembly.

You can contact our customer service team by mail, live chat and website form. One-to-one service from real people, professional engineer customer service will answer all PCB related questions for you. Manufacture the circuit boards required for the project in the best possible cost-effective solution.
Own 48,000 square meters factory area
Served more than 10,000 customers from all over the world
Equipped with world-leading production equipment
What Types of PCBs Can We Produce?
Various types of PCBs manufactured by JHD are used in different industries.
True comments from cooperating customers
Lavoriamo con JHD ormai da diversi anni, e nel corso del tempo si sono sempre dimostrati un ottimo fornitore, sia come qualità del prodotto, che come tempistiche di consegna Allo stesso tempo riescono ad essere molto competitivi a livello di quotazioni, e per questo motivo risultano essere uno dei nostri principali fornitori di circuiti stampati...
Firma JHDPCB cechuje się profesjonalną i kompleksową obsługą w zakresie świadczonych usług. Na podstawie naszej wieloletniej współpracy, z całym przekonaniem rekomendujemy firmę, jako rzetelnego i godnego zaufania kontahenta. Dzięki dużemu doświadczeniu i zaangażowaniu pracowników...
Наша компания сотрудничает с SHENZHEN JIANHONGDA ELECTRONIC TECHNICAL Co., Ltd. Уже более 3 лет, и за это время они оказали нам действительно хорошую поддержку. Эффективная коммуникация, квалифицированные инженеры...
Shenzhen Jianhongda (JHDPCB) is a fast and reliable PCB supplier. They have really good cooperation. Starting from inquiries to orders and clarifications, all are always attended immediately. We are greatly satisfied also for their quality PCBs and the competitive prices they offer. Plus the fast shipping which is of great help to us.
Share everything about PCB with you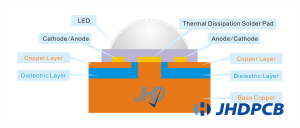 directory What is Thermoelectric separation? Thermoelectric separation substrate is a specialized type of substrate used in electronic devices to enhance heat dissipation. It consists of
Read More »
We are pleased to work with thousands of partners. Those who work with us globally include: