The last thing customers want to see is that after the PCB assembly is completed, or even after the product assembly is completed, they find that there is a problem with the PCB, causing great losses. Even though the PCB design is perfect, the entire manufacturing process is complex and affected by many factors. There can be hundreds of components and solder joints on a board in thousands, and without adequate validation, a PCB can also exhibit poor functionality. Jhdpcb understands this, so we believe that testing printed circuit boards (PCBs) is very important, as testing can help detect problems at an early stage, increase yield and reduce costs, and improve overall quality and safety. Since every testing way with advantages and disadvantages, it is hard to say which one is best for your testing. To better understand how PCB testing can enhance PCB products,let's learn more about the benefits of PCB testing as well as the various ways to test PCBs.
The Benefits of PCB Testing.
Find bugs: The main benefit of PCB testing is that it can effectively recognize bugs in the PCB. Whether the problem is functional, manufacturable, or otherwise, PCB testing identifies issues in PCB design and layout so designers can make adjustments accordingly.
Reduce costs: PCB testing prevents waste from producing defective products by using prototyping and small-quatities assemblies to test products. By accomplishing overall testing early in the design procedure, designers can prevent the bulk production of defective PCBs, in order to ensure the design is as perfect as possible before it goes into production This step helps to reduce production costs significantly.
Saves time: In the long run, early-stage PCB testing helps save time, to allow designers to recognize major problem during the prototyping step. Complete testing enables designers to quickly and easily discover the root cause of problems and make adjustments so they can continue production faster and reduce product lead times.
Reduced return rate: When a company conducts PCB testing, it can effectively reduce the chance of selling defective products or products that do not meet performance standards. This reduces costs associated with refunding customers and handling defective merchandise.In addition, reducing returns can make better customer satisfaction and company reputation enhanced.
Improved safety: Because PCBs are often used in fundamental electronics technology, their nonsuccess result in significant problems for a company's productive forces or an Organizational skills. Defective PCBs may cause accidents such as fire, and in severe cases may cause injuries to nearby workers. Pre-manufacturing testing also ensures that machines and workers are not damaged or injured by improper design during production.
Although thorough testing of all types of PCBs is not required, especially ones that are already technically mature. But most new and custom PCB designs require regular testing of the design procedure. JHD provides customers with high quality and reliable PCBs by establishing proper PCB testing procedures for their needs.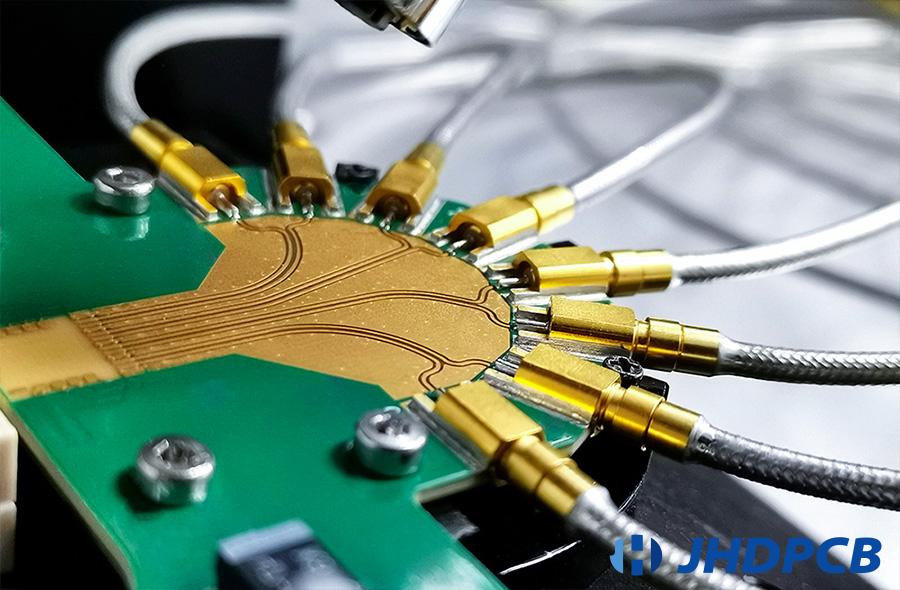 What Does PCB Testing Check?
The purpose of PCB testing and inspection is to check whether the PCB conforms to standard printed circuit board performance. Ensure that all PCB manufacturing processes are functioning properly to project specifications and are free of any defects.
A PCB consists of different components and assemblies, each of which affects the overall function of an printed circuit board. These elements are analysed in detail to keep PCB quality well. The test content to be performed should include the following checks:
Lamination: Lamination quality is critical to the longevity of a PCB. Peeling laminate can directly cause problems with board functionality. Typically, lamination tests are used to test the resistance of laminates to peeling by force or heat;
Pore Wall Quality: Pore walls are typically analyzed in environments with cycling and rapid temperature changes to understand how they respond to thermal effects. Make sure that the hole walls do not crack or delaminate when the PCB is put into service.
Copper Plating: The copper foil on the PCB is attached to the PCB board to support conductivity. Test the quality of copper, detailed analysis of tensile strength and elongation.
Cleanliness: The cleanliness of a PCB is a measure of the board's ability to withstand environmental factors such as weatherability, corrosion and humidity.
Solderability: Materials are tested for solderability to make sure that components can be fixed stably to the board and prevent soldering defects in the final product.
Electrical Testing: Conductivity is essential to any PCB, and the ability to measure the minimum leakage current of a PCB is essential. For detailed electrical testing content and methods, please refer to "

Comprehensive Understanding Of PCB E-Testing

".
Cleanliness: The cleanliness of a PCB is a test of the board's ability to resist environmental factors such as corrosion and humidity.
Environmental Testing: This is a performance and quality change test for the PCB to run in a humid environment. A weight comparison is usually made before and after placing the PCB in a wet environment, and a significant weight change is considered a rejection.
Eight Most Common PCB Testing Methods.
Other Types of PCB Assembly Testing:
In addition to the common test methods listed above, other types of PCB assembly testing include:
Microsection Analysis: Investigate defects,shorts, opens, and other failures.
Solderability Testing: Ensures a solid surface and increases the chance of a reliable solder joint.
Peel Test: Find out the strength measurement required to peel the laminate from the board.
PCB Contamination Testing: Detects high levels of ions that can contaminate circuit boards, causing corrosion and other problems.
Time Domain Reflectometry (TDR): Find faults in high-frequency boards.
Solder Float Testing: Defines the stress thermal that a PCB hole can withstand.
What Factors Determine Testing Methods?
There are several factors that determine the choice of testing methods for printed circuit boards (PCBs). These factors include:
Budget:
The available budget will play a significant role in determining the testing methods that can be used. Some testing methods, such as Flying Probe Test, may be more cost-effective for low to medium-volume production runs, while other methods, such as In-Circuit Test, may be more suitable for high-volume production runs, but come with a higher upfront cost.
Lead Time:
The lead time required for testing the PCB is another important factor to consider when choosing a testing method. Some methods, such as Automated Optical Inspection (AOI), can provide faster testing times than others, such as X-Ray Inspection, which may require more time to set up and perform.
Expected Volume:
The expected volume of PCB production can also impact the choice of testing methods. For high-volume production runs, methods such as the In-Circuit probe Test may be more suitable, as they can quickly test large quantities of PCBs. For lower-volume production runs, methods such as FCT may be more suitable due to their flexibility and lower setup costs.
PCB complexity:
The printed circuit board complexity is also a crucial factor in determining the suitable testing methods. For example, PCBs with a large number of components, high-density designs, or complex circuitry may require more advanced testing methods, such as ICT or Boundary Scan Test, to ensure that all components are tested thoroughly.
Other factors that can influence the choice of testing methods include the type of components used, the required level of testing accuracy, and the specific industry or application for which the PCB is being used.
What Attributes Does PCB Testing Contain?
Bare Board Test Properties:
Humidity: It primarily happens for circuit boards with applications that require humid environments. This test involves subjecting the PCB to a measure of its water absorption capacity. The PCB is weighed before and after being exposed to a humid environment, and any substantial weight change may indicate failure to meet the required standards.
Lamination Testing: Lamination Testing is crucial in determining the lifespan of a printed circuit board as it heavily relies on the quality of lamination. Poor lamination can lead to functionality issues, such as delamination, in which the laminate peels off. Tests are conducted to measure the resistance of the laminate to peeling when subjected to heat or force.
Electrical Conductivity: One of the essential aspects of a printed circuit board is its electrical conductivity, making it a critical test subject. The ability of a PCB to efficiently conduct electric current without excessive leakage is crucial.
Environmental testing: Environmental Testing refers to the process of evaluating PCBs for their ability to withstand environmental conditions like humidity and corrosion. This testing involves subjecting the PCBs to environmental conditions and analyzing them for any changes before and after exposure to determine their resistance. Also, the tests follow a similar route to environmental testing.
Copper Plating: Copper plating is a vital element of a circuit board, and its elongation and tensile strength are tested to ensure its quality. Copper is often laminated on the circuit board to provide conductivity.
Hole Wall Value: Hole Wall Value is a crucial quality parameter of a printed circuit board, as it helps prevent cracking or delamination when the PCB is deployed in the field. This parameter requires analysis for cycling and rapidly changing temperatures to gauge the reaction to thermal stress.
Assembled Component Properties:
Reliability Testing: Reliability testing involves testing the board's ability to function correctly over an extended period, including stress testing and accelerated aging tests. It also includes testing for welding reliability.
Electrical Testing: This involves checking the board's electrical characteristics, such as resistance, capacitance, and impedance, to ensure that they meet the required standards. It also includes testing for resistance voltage adaptability.
Solderability Tests: Solderability tests aim to eliminate defects in the final product and ensure the proper attachment of components. These tests analyze critical factors such as wetting, which determines the surface's receptiveness to liquid solder.
Whichever method is chosen, PCB testing is a necessary step in the board design and manufacturing process, saving a lot of unnecessary time and cost in identifying defects that could affect a circuit before it goes into final production. In general, a suitable combination of the above inspection and testing methods can detect all possible defects, the cost of which depends on the specific application and complexity of the circuit under test. However, to successfully run tests on your PCB or PCBA, you need a trusted supplier to ensure your prototypes are built to order every time. JHDPCB will provide rigorous inspection and testing procedures for all circuit boards we supply to ensure the quality of the final product – including bare board fabrication and assembled PCBs. A full line of state-of-the-art equipment offers a variety of prototype and small-scale production services to help you speed up your testing process. With years of professionalism and no hidden fees, you can fully trust us to provide you with high-quality prototypes for your next round of PCB testing. Contact JHD today for a quote!