A Ball Grid Array or BGA is a surface mount package (SMD component) without leads. We often use this type of surface mount packaging for surface mount technology (SMT) and utilize the metal balls of solder balls for electrical connections so that the BGA solder balls are attached to the laminate substrate on the bottom of the package. However, the die attach of the BGA to the substrate is by wire bonding or flip-chip technology. BGA substrates have internal conductive traces that are used to route and connect die-to-substrate bonds to substrate-to-ball array bonds. Similar to it is CSP chip-scale package.
What are the Common Types of BGA Package?
Different BGA assembly manufacturers in different countries use different types of BGA package processes in the package process. Below I will detail the most popular and widely used BGAs, including: PBGA (Plastic Ball Grid Array), CBGA (Ceramic Ball Grid Array), TBGA (Tape Ball Grid Array), EBGA (Enhanced Ball Grid Array), FC-BGA (Flip Chip Ball Grid Array), MBGA (Metal Ball Grid Array), Micro BGA,MAPBGA and TEPBGA,etc.
PBGA (Plastic Ball Grid Array):
The first to introduce is our PBGA, which is the abbreviation of Plastic Ball Grid Array. This is the most popular type of double-sided PCB cap used recently. It was invented by Motorola and is now widely used by most manufacturers. Its core is bismaleimide triazine (BT) resin as the base material. Combined with the application of overmolded pad array carrier (OMPAC) packaging technology or ball-to-pad array carrier (GTPAC), it is highly reliable and JEDEC (Level 3) qualified. This BGA can carry an array of around 200 to 500 balls and is suitable for a large number of applications. We JHD can use this technology for double-sided bga assembly, making our electronic boards more environmentally friendly, longer lasting, more heat dissipation, and high fire resistance.

CBGA (Ceramic Ball Grid Array):
The next thing we want to introduce is our ceramic BGA. In this type, the ratio of tin to lead is 10:90. This type of BGA has a high melting point and requires the C4 method (Controlled Collapse Chip Connection) to bridge between the BGA and the PCB. The cost is a little higher than PBGA, but BGA is more reliable, has better electrical performance and better thermal conductivity.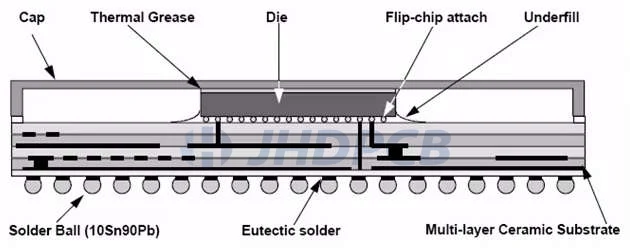 TBGA (Tape Ball Grid Array):
The third introduction to you is TBGA. Its only downside is that its cost is always higher than PBGA. However, if a thin product is to be made, it should have a strong core, better heat dissipation and highest electrical connection performance. Definitely TBGA's choice. Does the IC/chip have to face up/down; this is how to make the product value for money while keeping costs optimal. If the chip is up, wire bonding is recommended, and when the chip is down, the flip-chip approach is recommended in such BGAs.

EBGA (Enhanced Ball Grid Array):
The fourth is our Enhanced Ball Grid Array, which is the sum of the PBGA and additional heatsink options. A dam is built at the boundary around the electronic components/chips on the substrate and a liquid compound is added to seal the components on it. In this type, the chip is always facing down and wire bonds are used to conduct electricity between the PCB and the chip used.

FC-BGA (Flip Chip Ball Grid Array):
Next is the flip chip ball grid array, which is absolutely similar to CBGA, the only difference is the ceramic substrate. On the contrary, BT resin is used in FC BGA, which saves additional cost. Its main value lies in a shorter electrical path than any other BGA type and results in better conductivity and faster performance. In this BGA, the ratio of tin to lead is 63:37. Another advantage of this BGA is that the chips used on the substrate can be re-aligned into the correct position without the need for a flip-chip aligner approach.

MBGA (Metal Ball Grid Array):
The cermet is used as the substrate in the metal ball grid array type .In this method, the chip is face down and the circuit consists of this sputtered coating. In this method, wire bonds are used to make connections. This array is ideal for very good electrical performance and better heat dissipation values.
Finally, we want to introduce the Micro BGA. In this method, the chip is always face down, while the substrate consists of packaging tape. The value is that it uses an elastomer between the tape and the chip, which creates thermal expansion stress. Micro BGAs' most important value is their naming, mini size. Therefore, bga assembly factories are allowed to plan high-tech but small products. Most importantly, this type is at the heart of higher memory products with low pin counts. Therefore, better accessibility reduces liability at the same time.
MAPBGA(Moulded Array Process Ball Grid Array):
This BGA package provides a low-cost option with a small footprint and high reliability for low-to-mid-performance devices requiring a low-inductance package that is easy to surface mount.
TEP BGA(Thermally Enhanced Plastic Ball Grid Array):
This TEP BGA package provides a higher level of heat dissipation. It draws heat from the chip to the customer board by using thick copper layers in the substrate. It is widely used on thick copper PCB.
Advantages and disadvantages of BGA assembly technology.
Advantages of BGA Packages:
1. High Interconnect Density
The first and most important advantage of BGA packaging is its high interconnect density. The end space of the BGA packaging process is very large. So the available connection density is higher, allowing more I/O ports. It can help HDI PCB to achieve better precision interconnection of circuits.
2. Small footprint
BGA packages take up less space on the printed circuit board.Assembling a ball grid array to a circuit board is more efficient and more manageable than leaded electronics because the solder needed to solder the package to the circuit board comes from the solder balls themselves. These solder balls also "self-align" during installation.
3. Having Better Heat Dissipation
The lower thermal resistance between the BGA PCB packages and the bga pcb assembly is another advantage of this package. The lower the resistance, the better the heat dissipation. This allows heat to flow more freely, allowing for better heat dissipation and avoiding high chip temperatures. In order to prevent the device from overheating and affecting normal use.
4. Better Conductivity
Due to the lower inductance of the BGA package. So BGA package produces smaller solder joints and shorter leads. This makes the BGA provide better conductivity. Effectively avoid signal distortion in high frequency PCB applications. Therefore, BGA packages have more stable electrical and frequency transmission in high frequency circuit boards.
5. Increased Performance
The BGA packaging process has lower solder defects and stronger solder joints. And can freely adjust the tension between the solder joints, resulting in an excellent custom center effect. Compared with other IC packaging technologies, all of these factors ultimately give ball grid arrays better electrical performance. The bump technology is combined with appropriate BGA substrate materials to make it have excellent performance at high speed.
Of course, everything has two sides. In addition to its advantages, BGA also has some disadvantages.
More Susceptible to Stress:
BGA packages are more susceptible to stress, as the flexural stress of the circuit board can lead to potential reliability issues.
Inconvenient to Check:
Once the BGA is soldered to the board, it can be difficult to inspect for defects in solder balls and solder joints.
A little expensive:
In fact, in IC packaging, the cost of IC packaging solution is relatively low, but the use of BGA packaging process will make the cost relatively high. For example, compared with QFN package, BGA package process adds bump process and substrate, which is the factor of cost increase.
How to Solder BGA Package?
What are the basic rules that the BGA packaging process should follow?
When we carry out BGA packaging, we should pay attention to the following aspects:
Sufficient heat must be applied to ensure that all the balls in the grid are fully melted and that each BGA Solder joint is firmly bonded.
Until the solder cools and solidifies, the surface tension of the molten ball is to facilitate the package fixed on the PCB. What is necessary for solid solder joints and preventing solder balls from short circuiting each other is the optimal temperature-controlled BGA welding process.
Both the composition of the solder alloy and the welding temperature are precisely selected, so that the solder will not completely melt, but will remain semi-liquid, and each ball will remain separated from its adjacent ball.
Damage: the pins on QFP are very thin, and their spacing needs to be tightly controlled. Therefore, any improper handling may lead to failure, and when this happens, the tragedy will be irreparable. The main problem is that IC with high pin count is often very expensive.
Pin density: From the point of view of the bga package design, the pin density leads to the following problems: first, it causes problems in moving the wiring from the IC; second, congestion may occur in some areas.
Welding process: since the spacing between QFP pins is very small, we need to control the welding process very carefully to avoid contact bridging. Make sure there are no solder balls on the BGA solder joints. Ensure that the boundary of BGA solder joints is clear, smooth and clean, and there is no gap. The size, volume, grayscale and other shape features of all solder joints are uniform and aligned.
Strictly implement the inspection process: The most commonly used inspection methods for BGA inspection include AOI inspection and automatic X-ray inspection. However, due to the difference in welding technology and equipment used. It is necessary to choose other different detection methods according to the actual situation.

Click to view complete PCB testing knowledge.


Common BGA inspection problems include defects such as missing solder balls, misalignment, loose solder, opens, bridges, cavities, and uneven dimensions.
FUJITSU SEMICONDUCTOR DATASHEET

BALL GRID ARRAY PACKAGE
176 PIN PLASTIC
BGA-176P-M01
To Top / Package Lineup / Package Index
176-pin plastic FBGA
(BGA-176P-M01)
Ball pitch: 0.80 mm
Ball matrix: 14
Sealing method: Plastic mold
*The contents of this document are subject to change without notice.
We suggest you consult our JHDPCB's sales representative before ordering.
We will not be liable for any infringement of patent rights or other rights of third parties arising from the use of the information in this document or the package size.
As shown in the following table, the different pitches available in the BGA package have been listed.

BGA pins ball

Pitch in mm

Signal layer counts

2 trace

1 trace

256
1
2
3
324
0.8
2
3
484
0.8
3
4
484
1
2
4
625
0.8
3
4
676
1
3
5
784
0.8
4
5
900
1
3
5
1156
1
3
6
1517
1
4
7
1760
1
4
8
1924
1
4
8
2577
1
5
9
2892
1
5
10
How to Clean BGA Packages?
Due to different process requirements, we can use a variety of cleaning machinery and cleaning equipment.
What are the technical difficulties and roles of BGA inspection?
As we all know, BGA inspection is very difficult, one of the reasons is that the solder joint is located under the BGA package. Due to the positioning of this function, it may be a challenge to obtain a good view of the BGA for inspection. Despite this difficulty, inspection is crucial for BGA for several reasons:
Welding difficulty: it is very difficult to weld BGA components, because it needs to apply enough heat to the array so that all the balls in the grid can melt sufficiently to form solder joints. Both the connection density and the welding difficulty mean that the possibility of defects is high. The best way to help experts find these defects and avoid sending out faulty parts is to check them.
Unreliable electrical test: in order to ensure good electrical performance, we usually use electrical test to run current through PCB. However, this test can only judge whether the current is on or not when the BGA module is connected. These tests are unreliable because they can only find a few types of defects and can't find the exact location of any defects found. Only by combining this method with other technologies can we find out the errors and their locations more completely.
Recycling of materials: if we find defects in the welding of BGA electronic boards, we can send them to the rework station, remove them, update or renovate them, and then recycle them. Finding defects in electronic boards during early inspection is also a way to save materials and reduce material waste.
Quality control: In order to reduce bga package costs, quality control technology is also one of the means we use. This check can also identify common defects and patterns. Quality control technology includes two categories: sampling inspection and process quality control. The latter is our common method in the bga assembly process. It refers to the inspection of random samples of products in the production process to determine whether the process is produced within the predetermined mark. Then we make corresponding adjustments according to the situation.
Cost reduction: In order to reduce costs, we need to minimize the number of defects transferred to the next production stage through comprehensive testing. If further defects are found during inspection, we need to rework. Once reworked, the cost will increase. Therefore, the earlier defects are found, the lower the cost will be. This is the key to reducing costs. Therefore, we need to find all problems and find out their location and causes before they become larger and more expensive.
What are the Common Types of BGA Tests?
In order to avoid defects and reduce production costs, we always need to analyze whether the connection between BGA package and PCB is defective by checking BGA. Because there is no way for us to directly identify problems with such a delicate product as electronic board, we need to use various inspection techniques and tools to find defects. The commonly used inspection techniques and tools are as follows:
Electrical test is to determine whether there are quality problems in installation or manufacturing of electrical systems and equipment before they are put into use, so as to determine whether newly installed or operating electrical equipment can be put into normal operation. The insulation performance, electrical characteristics and mechanical properties of individual electrical equipment in the electrical system shall be tested and verified item by item according to relevant provisions in standards, procedures and specifications. Through these tests and verifications, the defects, errors and quality problems of electrical equipment during manufacturing and installation can be found and eliminated in time to ensure that the electrical system and electrical equipment can be put into normal operation.
Visual inspection refers to a kind of inspection method in which inspectors observe or measure the surface of industrial products with the aid of optical instruments under the condition of visual inspection. It is usually used to detect incomplete penetration, spatter, undercut, pit, inclusion, air hole, crack, delamination, corrosion, erosion, size measurement and other problems on the surface of workpieces such as welds and castings.
X-ray testing is the most advanced testing method of BGA. It uses X-ray technology to observe, study and inspect the microstructure, chemical composition and other test technologies of materials to check whether there is a que in the electronic version. Such as X-ray powder diffraction, X-ray fluorescence spectroscopy, X-ray radiography, X-ray topography, etc. The X-ray tube emits more X-ray through the circuit board, and gathers them in dense areas such as solder joints. Then, the detector converts them into visible light and generates images. Through analysis and observation from different angles, similar defects such as solder bridge, popcorn and excessive solder can be identified. However, this technique is not good at detecting open circuits.
Both the endoscopes and X-ray inspection technology can also be used for various applications other than BGA inspection. Some examples include through-hole and Through-Hole Assembly detection, surface mount defect analysis, and lead-free solder detection.
What are the Common BGA package Defects?
Due to the complexity of BGA, it was many potential defects that may occur in the welding process of BGA. These problems include the following:
Misalignment: Misalignment is one of the most common problems during BGA assembly. It usually occurs when PCB and BGA are offset during reflow soldering and the connection point is incorrect.
Inconsistent standoff height: Inconsistent standoff height will endanger the safety of connection. The BGA setting on the PCB surface is skewed because it is caused by improper welding when the BGA is set on the top of the PCB.
Ball leakage: During the assembly process of connecting BGA to PCB, the ball leakage is the most likely error, which may be due to the lack of necessary connection points during the assembly process.As a reliable china pcb assembly bga factory, we strictly control the assembly soldering process. Avoid ball leakage events.
Non wetting Pads: Due to incomplete reflow or residual solder resist in previous steps during production, reflow paste may not wet pads correctly in some cases.
Bridging: Bridging is a kind of PCB welding problem. It refers to the phenomenon that too much solder leads to PCB pads connected together. Bridging is not easy to find, but it can cause fatal damage to PCB.
Partial reflow: Partial reflow is usually caused by insufficient reflow soldering, human error or mechanical failure, which means that the current only partially covers the circuit board.
Popcorn: Popcorn phenomenon refers to the phenomenon that the moisture existing in an integrated circuit or SMD in the device is heated rapidly during the repair process, which causes the moisture to expand, causing micro cracking or cracking. This is a common problem of BGA, which also leads to short circuit.
Open circuit: Open circuit refers to the circuit state when there is no current between two points in the circuit or the conductor with very large impedance value (or resistance value) is connected. Even though the electrical test can identify the problem, the cause cannot be determined.
Voids: In collapsible BGA components,voids are the most common problem . This is caused when there is no welded connection where the flow stops.
The fatal errors of the final product may be these problems, so we must find these errors by using quality inspection techniques and techniques. Fortunately, with the development of modern detection technology, we can already use one or more detection methods to identify the extent of most defects. However, it is important to avoid these defects before assembly as far as possible.
Application of BGA Assembly Technology.
Since BGA allows the use of IC device packages with hundreds of pins (high density miniature processing chips). Integrate more functions in a smaller space, so BGA packages are often used in high-density PCB products. At the same time, the good solderability, electrical performance and heat dissipation of the BGA package are also excellent. The advantages of various aspects make it widely used, such as:
Notebook computers,
Intelligent mechanical equipment,
Intelligent robots,
IoT smart home,
Medical equipment,
Military equipment,
LED industry,
Radio communication,
Aerospace,
Satellite fields.
JHDPCB's BGA Assembly Capability.
BGA Assembly Capability of JHDPCB-
JHDPCB has many professional engineers and high-end machines. While providing high quality, we also provide high-precision BGA packaging technology. Turnkey services for BGA assembly and other assembly methods are also available.BGA assembly quotes in shortest time and we will provide you with the most reasonable bga package price.
Our advanced SMT assembly equipment-
We have a full-automatic SMT production line to ensure high precision and high yield of assembly. Our latest equipment includes automatic soldering machine, automatic mounter, reflow furnace, X-ray, etc. to create better product services.
Our BGA Checking Flow-
Solder quality inspection for BGA packages is complicated by the fact that the solder balls are located under the die. Traditional optical methods cannot tell if a solder joint has inspection or voids. We can improve the detection accuracy by using the combined detection method of electrical measurement, boundary scanning and automatic X-ray detection. The premise is that there are BGA components in the SMT assembly produced by the smt bga assembly factories.
Our BGA Assembly Capabilities-
Because it requires precise control, ball grid array welding is traditionally accomplished through an automated process. JHDPCB can create high-quality and reasonable-yield BGA assembly PCBs for you. The BGA of the minimum spacing size that we can assemble is 0.25mm. We provide the following types of BGA assembly services: PBGA (Plastic Ball Grid Array), CBGA (Cellular Ball Grid Array), TBGA (Tape Ball Grid Array), EBGA (Enhanced Ball Grid Array), FC-BGA (Flip Chip Ball Grid Array), MBGA (Metal Ball Grid Array), Micro BGA, MAPBGA and TEPBGA, etc.
Nowadays, most manufacturers have mastered BGA assembly technology. As a PCB manufacturer with many years of experience, JHDPCB provides BGA components that are higher than the industry standard and undergo strict factory inspection. It is recommended to have BGA assembly for your PCB by an expert, JHDPCB must be your best choice. If you need more information about PCB packaging or have any questions, please feel free to contact us. JHD's professional customer service team will provide the best advice for your PCB production and assembly.