Comprehensive understanding of PCB power design
Get to know PCB power supplies. and its importance.
In PCB Power applications, no matter what power supply method the device uses, a circuit needs to be designed to regulate the power supply to the device. Large amounts of current must be conducted for equipment to function properly without affecting efficiency and losing power.
At the same time, with the increase of circuit design density and complexity, the complexity of power supply design also increases. Designing a power supply that can provide the required power to each PCB component (transmitter, IC, capacitor, etc.) is a challenging task for the PCB designer, as each component has different power requirements. Only a perfect power supply design can meet the normal operation of subsequent PCB schematics, design layout and manufacturing to use.
Power PCB design begins by calculating the trace width and maximum current threshold that the power PCB should handle. Second, the power PCB design should also include proper material selection that can control the heavier components.
Not only should the board hold the weight, it should also be held in place with maximum grip so that in the case of control knobs, high-power relays, and heavy-duty cable connectors, blunt physical forces won't damage the PCB.
Typically, power electronic circuits require low resistance paths and high current carrying capabilities. As a result, some power converters have to deal with disturbances and noise due to high-traffic, high-speed switching that affects the rest of the analog and digital circuits.
At the highest voltages, particular attention is paid to thermal management issues arising from high-power electronics and necessary safety features. Such as grounding, power isolation, heat dissipation and electrostatic discharge. Power supply PCBs should consider power and signal integrity issues, because of the way ICs operate, signal and power integrity are closely related, and some power supplies can generate significant radiated EMI that affects other parts of the board. Systems without or connected to power are immune to signal integrity or power integrity issues, But implementing some necessary impedance design procedures can help prevent redesign. IPC® regulates the safety features of the power supply PCB. Consumer electronics products should include top-level security features to keep users safe.
Power PCB designs typically use a high thickness copper grater or equal to 2oz. However, solder bridges are required in many cases to provide adequate current-carrying capacity. Spark gaps are often included to prevent circuit damage from the ark.
PCB Power Design Power Type.
The first step in building a PCB power supply is to choose the type of power supply that is suitable for use in your device or project. Unregulated power supplies are the first choice for converting AC power from a wall outlet to DC voltage. The output of this power supply will contain a ripple waveform because the output is not smoothed with a voltage regulator. Modern applications often use regulated power supplies to minimize ripple.
There are two main options for regulating the DC output of a power supply: linear regulators and switch-mode power supplies.
Linear regulators— Are very low noise, but they tend to be bulky due to the use of heat sinks or other active cooling measures required for thermal management. The remarkable heat dissipation of these power supplies is excellent.
Switch-mode power supplies— offer higher efficiency over a wider current range, allowing these power supplies to be used in smaller form factors. However, these power supplies use a PWM circuit to smooth and regulate the output voltage, which requires the use of active switching elements (usually MOSFETs). This means that the system radiates strong EMI. This switching noise will appear as a ringing signal (i.e. conducted EMI) at the output and needs to be filtered from the output.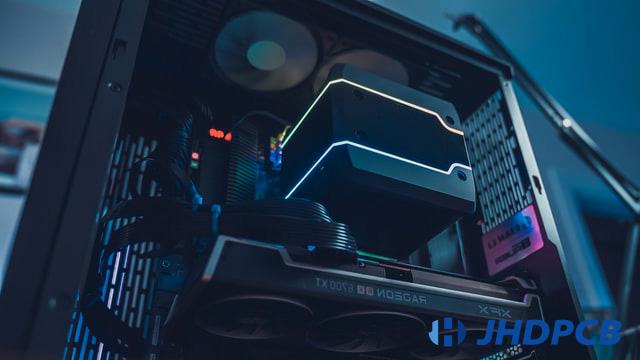 Considerations for PCB power supply design:
Due to the increased density and complexity of PCB power supply design. PCB power supply is not limited to power conversion, and ensuring power integrity and heat dissipation performance in power output is also a consideration in PCB power supply design. PCB designers have more customization options for PCB power design and layout. Designers must follow certain rules to help deal with common problems associated with them, such as: including EMI, designing traces to handle high currents, reducing current loops, component selection, and following datasheet layouts.
Some important things are listed below: