The Ultimate Guide to PCB Repair and Rework.
Can circuit boards be repaired?
Yes, if the circuit board are physically damaged, which fortunately can be repaired or remanufactured.
PCB boards contain many kinds of electrical components. Problems are inevitable because the assembly and production process of PCB circuit boards is too complicated. PCB repair applies to the restoration of a PCB that has suffered physical damage(i.e laminate repair, eyelet replacement, PCB-namely pad or trace lifting, etc.) to the extent that the printed circuit board can function according to the previous design requirements. Printed circuit boards can be repaired or secured in certain ways, and each requires a corresponding level of expertise. The processes and skills of PCB board repair necessitates a high degree of hand-eye coordination and plenty of patience. In many cases, any repairs to electronics or the internals of a device need an understanding of basic circuitry, engineering, and mechanics. But what we need to understand is that the cause of PCB damage is primarily exterior factors, for instance, short circuit, shedding of electronic components, etc. We need to find the cause of the failure about common circuit board damage, and then choose an appropriate method to repair the PCB, so as to successfully restore the function of the circuit board.
Why do you need PCB circuit board repair?
For the hobbyist, knowing how PCBs function and how to fix them is essential if you want to learn how to maintain your own systems and projects. Once you have learnt this techinical ability, you will find that it stimulates your interest and opportunities to gradually explore simple to complex related electronics repairs. This is the first step makes toward more superior electronics restore work.
For professional electrical engineers, mastering the skill of repair circuit board is a matter of course. Electrical engineers should feel confident in their PCB skills as they are more motivated to pursue knowledge of this elementary skill. Today, many commercial fields as well as individual users are increasingly relying on more complex electronic products, and most of them need PCBs. Only by fully understanding how to diagnose, repair or replace circuit board failures, can electrical engineers perform troubleshooting on various electronic devices with ease.
Obviously, the main benefit of repairing a PCB is that it restores the functionality of the electronic products to its primary standards. Besides, repairing a PCB can be generally done quicker than replacing it, depending on the extent of the damage. Beyond that, it's important to note that repairs are usually less expensive.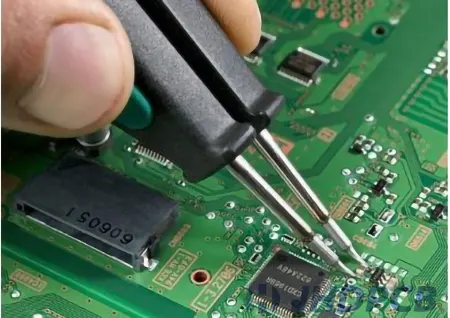 In the end, both amateurs and professional electrical engineers have good reasons to get involved in learning about PCB circuit board repairs. A person who is passionate about researching and practicing the recycling or upcycling of electronic products, or maximizing the lifespan of electronic equipment, he will surely gain a great deal of accomplishment in the process of repairing PCBs, identifying and replacing faulty circuit board components, etc.
What are the reasons for the failure of the PCB circuit board?
Before doing any curcuit board repairs, we need to inspect and understand why it failed. Familiarity with some of the common causes of circuit board failure is essential. If something goes wrong with your electronics, you can find out why it failed. You can know where to start to successfully solve problems.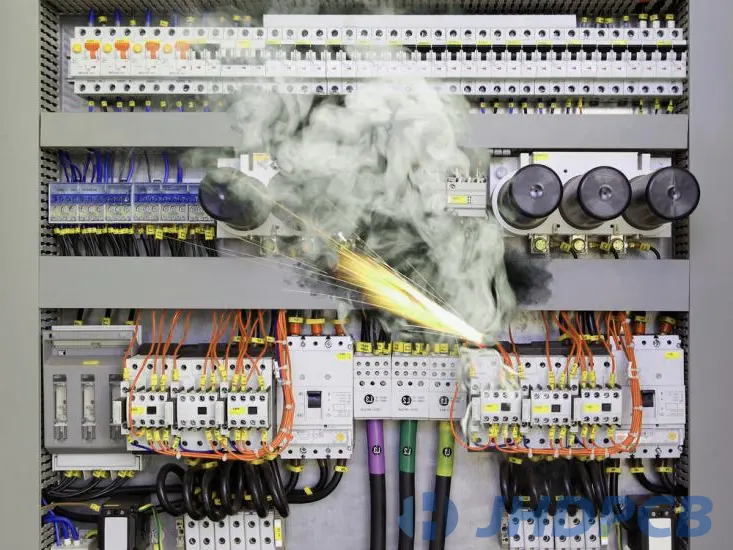 The followings are the common causes of PCB circuit board failure:
Physical Damage.
Generally speaking, when a PCB fails, it is usually because of physical damage to the electronic device or the components within it. Causes of physical damage generally relate to physical shock or pressure. However, in rare cases, it might be because the device has fallen from a high place, or has experienced a violent crash. Sometimes the electronic device is manually disassembled and the circuit board is damaged.
Defective PCB Assembly.
The second most common cause is PCB assembly failure. If the PCB is not physically damaged by impact, you can consider that the PCB failure is related to the components of the circuit board. The damaged component can be anything from a capacitor to a diode or a microprocessor, most are diodes, transistors or ICs. Over time, components are discontinued or failed. If it is determined that the PCB failure is caused by a component, we need to repair or replace it in time.
Trace Damage.
We know that traces on a circuit board are conductive paths made of copper or silver. Many times we can see trace problems with the naked eye, but sometimes we can't. If the traces are damaged, the board will not operate or function. Some usual reasons of trace damage consider metal dust contamination, overheating and normal wear and tear, lightning strikes, severe power surges or short circuits, etc.
Poor Design.
From the design of the PCB board to the assembly of all links, different responsible persons will participate. Although today's electrical engineers are excellent, human subjective errors may occur in the production process of PCBs. This can result in poor design of the board, which can lead to failure of the PCB. However, these errors are not intented. Human errors are generally misinterpretation of design drawings and installation errors of electronic components. What's more, when soldering electronic elements, there may be lead to leakage of welding.
Environmental Factors.
PCB circuit boards have certain requirements on the environment. Excessive heat or humidity can cause some materials in the PCB to expand. In addition, exposure to air, water, chemicals, or other contaminants may cause rust to form on metal conductors. This increases the possibility of short circuits and reduces the efficiency of the board. Dust, fibers, hair and even insects that are ubiquitous in life will sneak into PCBs during the manufacturing process.
Static Electricity Damage.
Through the investigation, it was found that component defects may occur during the PCB assembly process. The main cause of this problem is static electricity. Because the PCB will react when it comes into contact with static electricity, even a small amount of static electricity may damage the PCB.
High Temperature Damage.
One situation is that the distance between the various electronic components in the circuit board is too close. Then when the PCB board is running, high temperature will be generated between the components. This can lead to burnout of electronic components.
Another situation is that when the PCB board is in a high temperature environment (above 170 degrees), it will cause the PCB components to burn out. Usually under high temperature application conditions we suggest to use thick copper PCB to help better heat dissipation, or use high TG PCB to help solve the problem. This is a very serious failure. , sometimes the circuit board needs to be replaced completely.
Necessary safety measures when repairing PCBs?
When servicing printed circuit boards (PCBs), we follow some precautions to prevent further damage. Here are some Necessary safety measures: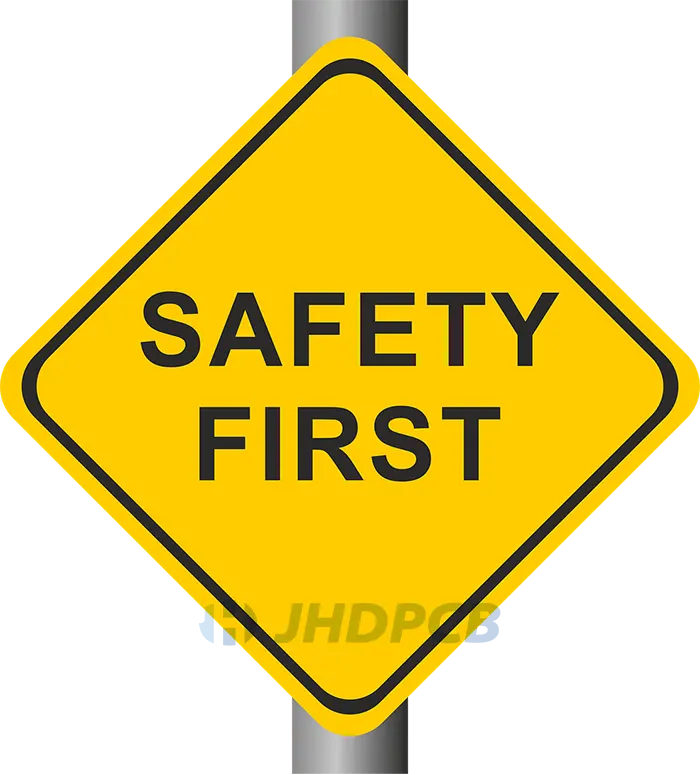 Wear safe explosion-proof glasses:
When doing PCB repairs, it is inevitable that solder will splatter. Especially when the soldering iron melts the tin wire, some liquid will be splashed. Therefore, wearing safety glasses can isolate your eyes from dangerous objects, they play a protective role.
Discharge theElectronics:
When we are ready to repair damaged electronic equipment, be sure to unplug the electronic equipment and ensure that the PCB board is completely discharged. In particular, we should pay attention to the power supply and capacitor can be charged, to ensure that they are safely discharged. At the same time we remove the extra supplementary battery. Why do we do this? First, the purpose of this is to prevent short circuits in the electronics. The second reason is to protect our own safety from electrocution.
Wear an Antistatic Wrist Strap:
Electrostatic discharge(ESD) is the sudden flow of sparks across two surfaces. There is a current difference between these two surfaces. In order to maintain balance, the one with more current will flow to the one with less current, thus generating static electricity. Anti-static wrist straps have a conductive surface that dissipates the skin and thus is able to dissipate excess charges. In addition, when repairing the PCB, you should also wear anti-static hats, overalls and shoes to ensure your own safety.
Reduce Environmental Pollution:
Before PCB maintenance, we need clean our hands, use electronic safety hand sanitizer and clean the edges of PCB to ensure the smooth progress of the maintenance process. The reason for this is that the attachments on the hands and the edge of the PCB, such as water and salt, may cause corrosion and short circuit of the PCB board. Therefore, during PCB repairing, we must be sure to use electronic safety hand sanitizer to clean hands and prevent more failures on the circuit board. Wear work gloves for better protection.
How to troubleshoot a circut board?
Component failure is a fact of life. Printed circuit boards are manufactured according to certain design specifications, so manufacturing defects cannot be avoided. Some defects can cause circuit boards to malfunction during the operation of electronic equipment. In this case, we first need to troubleshoot the failing board. PCB troubleshooting usually takes into account many factors such as the multilayer PCB repair, size, component type, PCB Impedance and signal analysis, so it is a difficult challenge.
Here are some practical methods to troubleshoot printed circuit boards:
Inspection Method

Details

Visual Inspection

Visual inspection and smell can be used to identify the presence of damaged parts on the circuit board. Some signs of damage such as smelly boards, burnt copper, broken copper, or moldy, blackened, and poor solder on gold fingers/excuses can be detected by visual inspection and smell. In addition to this, there are also signs of damage to swollen components.

Generally speaking, you can judge the failure of some components through the appearance of the failure phenomenon.

Overall Inspection

Detect all components of the PCB board to find damaged components for repair. If it is not possible to determine which parts are defective, this method can be used to estimate and replace them with new ones. This ensures that the components of the PCB are functioning properly.

This method will not be effective when encountering broken copper, improper adjustment of the potentiometer, or via fault. But the advantage of this method is that it is effective and easy to operate for general problems, if you have enough responsibility and patience.

Comparative Method

The comparison method refers to comparing a good circuit board and the damaged one, observing the node curves of the two for comparative analysis and finding out the defects. This method works very well and is considered one of the most common ways to troubleshoot a PCB without a drawing.

When we don't have a good board to compare, we can try the following. One is to compare the damaged circuit with a circuit of common properties, which generally have the same curve in the bus. This method can also be used to diagnose whether the IC is damaged. The second is to compare a defective circuit with a circuit of the same attributes. For example, there is a board with four same interface. Because the circuits of the four interfaces are consistent, we only need to compare their curves to judge defects.

Check Status
We are familiar with the state of each component during normal operation. So by observing the status of the components, we can check whether the circuit board is damaged. This method requires maintenance personnel have rich practical experience and theoretical knowledge, it will be more difficult for beginners. However, at present, one of the most accurate methods for PCB fault determination is the state detection method.
Substitution Method
At present, ICs is at cheaper and cheaper prices.So when you cannot determine the failure of the IC, you can replace it with a new IC chip. The advantage of this method is that by replacing the IC, it can be repaired and verified to work properly on site, which saves time. The disadvantage is that you can repair the PCB board by this method, but you will don't know where its defects are. Besides, when buying ICs, be careful not to buy bad ones. This will lead to increases in failures and in the difficulty of AC PCB repair.
Principle Analysis
The principle analysis is to analyze how the circuit board works. Electrical engineers can troubleshoot and repair simple circuits without explanatory diagrams.. But some rare and complex electronic devices do not have schematic diagrams to refer to. At this time, engineers need to use their rich experience to draw the schematics, and then repair the PCB board. Because this method is time-consuming and labor-intensive, electrical engineers need to be careful and patient enough. Therefore, before deciding to draw the schematic diagram, the engineer should carefully judge whether the damaged PCB board is worth doing.
For more PCB inspection methods, please refer to our related blog.
How to circuit board repair?
Looking For a ProfessionalPCB Maintenance Personnel:
When the PCB board is damaged, we should first look for professional PCB rework personnel. They have professional theoretical knowledge and rich practical experience, and they have specialized printed circuit board repair kits. For general PCB failure problems, professional maintenance personnel can find the defects and repair them through equipment inspection. In particular, if the PCB board is severely damaged, they can replace it with new components and reassemble it to achieve circuit board refurbishing. When you do not have the basics, you may make the equipment failure worse.
Equipped with Professional Testing Tools:
Professional detection tools can help us find the cause of PCB failure more accurately and effectively. The problem cannot be fully detected by eyes alone, so we need to use some detection equipment.
When we find a defect in the PCB circuit board, how to repair it? The principle of solving the problem is simple, we only need to reassemble the missing components in the PCB board. Maintenance personnel with extensive professional knowledge are familiar with the location of every component on the PCB board. When repairing, they need to be equipped with various electronic components and other professional PCB repair tools such as voltmeters. By inspecting the conductivity of the circuit board to judge whether the PCB can conduct electricity normally, if not, it means that a component has failed. Then use professional testing tools to locate the location of the problematic component. In this way, maintenance personnel can replace components to achieve PCB repair.
How to Repair a Damaged Printed Circuit:
We know that the complicated circuits on the PCB are printed in batches. What should we do if we detect circuit damages?
First, we need to find the broken component. Carefully observe where the brightness is poor is where there is a fault. Because intact printed circuits are bright. If the failure cannot be found by observation, we can also use detection tools. Wear and short-circuit problems can be clearly found under the scanner. Then, re-solder the faulty areas with solder. Finally, check again if the fault problem is completely resolved.
How to Solve PCB Design Defects:
The issue of PCB design defects is a complex and tricky one. We can't find this problem when we first start using electronic equipment. However, when various problems frequently occur on the PCB board, it is likely to be caused by unreasonable design. The best solution is to thoroughly solve this problem is not let the failure happen again. Unfortunately, we cannot predict in advance whether there will be defects in the PCB design. And the cost of solving this problem is huge.
Choose JHD to provide you with reliable PCB circuit manufacturing services to reduce repair costs.
JHD strictly controls the quality from every step of PCB manufacturing to avoid unnecessary rework repairs. Our state-of-the-art facilities allow us to perform our duties with great efficiency and precision. This, combined with our excellent management team and experienced personnel, means we can help you with any PCB related manufacturing quickly and save you PCB manufacturing costs to the greatest extent.
If you are interested in our manufacturing and repair service, please feel free to contact us.
Open high-quality PCB manufacturing services in JHDPCB